작성일: 2004.05.09
Visual IBIS Editor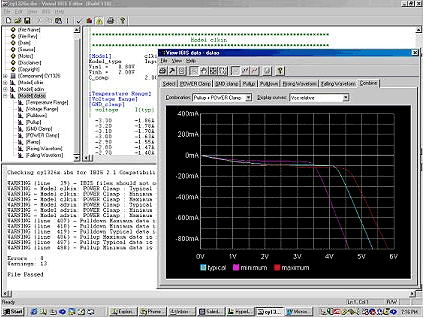 Mentor Graphics社에서 무료로 제공중인 program입니다.
The Visual IBIS Editor is a program for creating, editing, verifying, and maintaining IBIS (I/O Buffer Information Specification) device models. Anyone who uses or creates IBIS models will benefit from using this editor, regardless of whether or not they own any of Mentor Graphic's HyperLynx and ICX products.
---
Visual IBIS Editor Details
---
A large-file Windows text editor
An integrated IBIS-syntax-check utility
A graphical viewer for looking at IBIS V-I tables and waveform tables
An IBIS-file template generator
A complete, self-contained online Help system
An online IBIS specification
Completely re-developed and designed user-interface
Detailed, interactive, hierarchical view of the IBIS file
Brand-new I-V and V-t curve viewer, sizeable, with flexible area zooming
Ability to view high-side I-V curves that are either power- or ground-relative
Ability to sum clamp-diode and pull-up-down curves
Significantly improved text editor, with the latest MFC editing features, including undo/redo, advanced font control, and bookmarks
Automatic IBIS-syntax-specific keyword and comment colorizing
Improved printing features
Latest version of the IBIS Open Forum syntax checker
Sizeable warning/error window for syntax-check results; double-clicking jumps to error location (for parser messages containing line numbers)
For users of HyperLynx, a re-written "Easy IBIS" model-creation wizard, with improved user interface
Re-written Help system
---
무료 Visual IBIS Editor 내려받기...

파일명: visibis31.exe (6,457,873 bytes)


파일명: visibis32.zip (6,040,562 bytes)


최신 version download link: http://www.mentor.com/pcb/downloads/visual_ibis_editor/visual_ibis_editor_dl
---
출처:
http://www.mentor.com/pcb/downloads/visual_ibis_editor/